BBC Radio Leeds debates the coalition one year on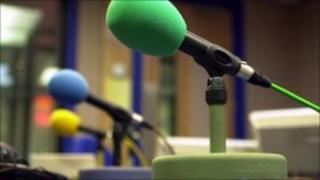 On Thursday, 19 May BBC Radio Leeds gives you the chance to write the coalition's end-of-year report.
Andrew Edwards is hosting a special live debate in Bradford with politicians from the Conservatives, Liberal Democrats and Labour.
Also taking part are people from the business world and the arts considering what 12 months of coalition government has meant for West Yorkshire.
The debate will be broadcast between 1800 and 1900 BST.
You can put your questions to our panel or be part of the audience in Bradford that night.
Have your say
If you'd like to get involved:
Either text 81333 (start your text with the words "leeds debate")
Or email: radioleedsdebate@bbc.co.uk
BBC Radio Leeds will get back in touch to explain how you can be part of the debate.
Following the last general election in 2010 a coalition government was formed with David Cameron (Conservative) as prime minister and Nick Clegg (Liberal Democrat) as deputy prime minister.
It is the first time Britain has had a coalition government in 70 years and the first time these two parties have ever agreed to a power sharing deal at a national level in the UK.
The Conservatives fell 20 short of the 326 MPs needed for a majority.
In total there are five Liberal Democrats in a cabinet of 23 members.