Halifax clergyman claims trike hearse world speed record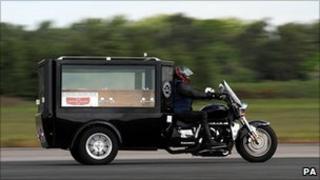 A clergyman from West Yorkshire has claimed a world speed record for a three-wheeled hearse.
Motorbike-mad minister the Reverend Ray Biddiss, from Halifax, drove his adapted Triumph Rocket III at just over 114mph at Elvington airfield near York.
Mr Biddiss has spent four years developing his motorcycle hearse, which he said was much more than a simple motorbike and sidecar.
He said: "I wouldn't be seen dead in a sidecar."
'Infinity and beyond'
The unusual vehicle consists of a hearse built at the rear of the front end of a Triumph Rocket III and can take a coffin of more than six feet in length.
If a larger coffin size is required a hydraulic system can add a few more inches to the available length.
After the successful record attempt Mr Biddiss was upbeat about his machine.
He said: "It is 2,340cc of British engineering, the Rocket. If you're going to infinity and beyond, best you go by Rocket."
The record is awaiting official confirmation from the Guinness World Book of Records. The category had no previous record to beat.