Cable thefts soar in West and North Yorkshire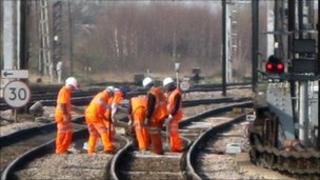 Yorkshire is a hot spot for criminals stealing railway cables for scrap metal, new Network Rail figures show.
West and North Yorkshire together experienced around 200 separate attacks in 2010/11, an increase of 40% over the previous year's figure.
The cable is vital for the railway network's signalling and the thefts delayed passenger services by more than 1,000 hours in the two counties.
Compensation for services delayed due to theft reached £1.3m in 2010/11.
Richard Lungmuss, route director for Network Rail, said: "These criminal acts have to stop.
"Every day passengers and essential freight deliveries on which our economy relies are being delayed by thieves looking to make a quick buck at our expense."
Improved warning systems
The rail industry is looking at several methods to tackle the problem.
A new type of cable is been introduced that it is hoped will be easier to identify and harder to steal.
New warning systems including motion sensors alongside the track and improved CCTV, are being installed.
British Transport Police (BTP) is making cable theft second in its list of priorities - only terrorism is ranked higher.
A national intelligence "cell" to combat cable theft has been formed with members from BTP, Network Rail and partner organisations.
Anyone with any information about cable theft should contact British Transport Police or Crimestoppers where they can report the crime anonymously and could receive up to £1,000 reward if their information leads to a conviction.