Domesday Reloaded: Take a trip back in time to 1986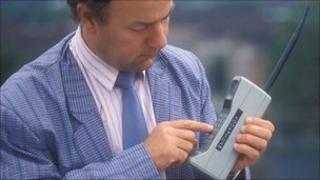 A snapshot of life in West Yorkshire 25 years ago has been unearthed in the form of a "digital time capsule".
It was in 1986 that the BBC's Domesday Project first asked people across the UK to collect images and stories reflecting life where they lived.
West Yorkshire stories emerged like the Outlane Drum Majorettes whose attempts to hit the big time were documented.
These stories, and hundreds like them, were stored on what were then state-of-the-art shiny digital "videodiscs".
Sadly, as is often the case with technology, it was only a matter of time before videodiscs were a thing of the past and the images and stories collected were never widely seen.
Over to you
However, 25 years on the original Domesday Project is coming to life once again, this time using the internet.
All the fascinating information from 1986 has now gone online on the BBC's Domesday Reloaded website and now it is over to you.
We want you to explore and update all those images and stories from 1986 to give a fascinating insight into just how much West Yorkshire has changed - or stayed the same - in the past quarter century.
The BBC Leeds and West Yorkshire website, BBC Radio Leeds and BBC Look North are joining together to highlight great stories from your own backyard from both the past and the present.
Rozina Breen, managing editor of BBC Radio Leeds, said: "We will be focusing on amazing stories which highlight changes to the physical and social landscape experienced over the last 25 years.
"Because of the sheer volume of original contributors, we have a comprehensive snapshot of the region from 1986 which allows people to explore and update at a hyper-local level which makes the experience extremely personal."
1986 and all that
For those who do not remember or were not there, here's a quick reminder of life in 1986:
The Space Shuttle Challenger exploded shortly after launch
Margaret Thatcher was prime minister, and within a year would be re-elected for a third term at Number 10
Maradona's "Hand of God" destroyed England's World Cup hopes
The Sinclair ZX Spectrum - rubber keyboard and all - was leading the UK's personal computer boom
And right here in West Yorkshire, as documented in the original Domesday Project, it was a big year for the Outlane Drum Majorettes.
Based in Huddersfield, the majorettes had just been kicked out of their rehearsal premises by the local council as the building had been condemned.
They took their campaign to the media, including the Domesday Project, and ended up on Esther Rantzen's hugely popular That's Life TV show.
Happily, within a short time they were picked up by pop group The Strand and appeared in their video.
Just last year the Outlane Drum Majorettes got back together for a reunion in Huddersfield, as many members still live locally.
If you're intrigued at the prospect of taking a trip back in time to West Yorkshire in 1986, or if you would like to update our Domesday Project archive for the 21st century, visit the the Domesday Reloaded website now.