Bodies of two men found on Bradford road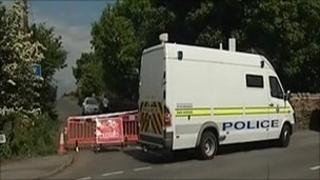 A murder investigation has started after the bodies of two men were found on a road in West Yorkshire.
They were spotted by a passing motorist in New Lane near its junction with Raikes Lane in Tong, Bradford just before 2230 BST on Tuesday.
West Yorkshire Police said no weapons had been found and they were investigating whether the men had been attacked elsewhere and then moved.
Forensic officers have been at the scene examining the area.
Det Supt Dick Nuttall said: "Officers are currently working to establish the identities of these men and the circumstances leading to their discovery.
"We are also examining the possibility that these bodies were left on New Lane following an attack elsewhere.
"I am particularly interested in hearing from anyone who was in the area of New Lane or Raikes Lane at the time or saw anything suspicious to come forward immediately."
Police said New Lane was closed between Holme Lane and Tong Lane.