Bradford burning body murder suspects arrested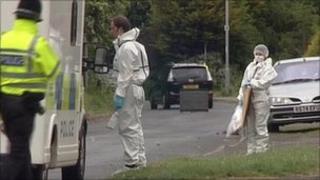 Two men have been arrested on suspicion of murder after a body was found burning on a bonfire in Bradford.
The men, 32 and 39, were arrested after the body was discovered by firefighters on Thursday near Holme Lane.
A post-mortem examination is due later and police are carrying out a house search in the Holmewood area.
Police said they were not connecting it to the discovery of two men's bodies found lying by the side of the road in the same area two days earlier.
The arrested men remain in police custody.
Head injuries
West Yorkshire Fire Service said it was called to Holme Lane at about 0615 BST on Thursday to attend a "fire in the open" and discovered the body on a bonfire.
The person was dead when crews arrived.
Det Supt Paul Taylor said: "Last night [Thursday] officers attended an address on Eggleston Drive in the Holmewood area of Bradford which will now be the subject of forensic examinations."
West Yorkshire Police said they hoped they would be able to make a formal identification of the body on Friday.
The body was found about 500m (545 yards) across fields from where the bodies of the two unidentified young men were found in New Lane near its junction with Raikes Lane on Tuesday night.
A post-mortem examination revealed that one of the men, aged in his 20s or 30s, had died from head injuries. A post-mortem examination on the second man is expected later.
Det Supt Dick Nuttall said: "We are working to establish their movements in the hours leading up to their death."
Anyone with information is urged to contact the police.