Two dead men found on Bradford road had head injuries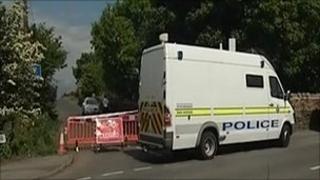 Two men found dead on the side of a Bradford road had head and neck injuries, post-mortem tests showed.
The men, in their 20s or 30s, were found by a motorist in New Lane, Tong on Tuesday night.
West Yorkshire Police said no weapons had been found and they were investigating whether the men had been attacked elsewhere and then moved.
The identities of the two men have not yet been released. Forensic officers continue to examine the area.
Police said they were not linking the two deaths to a third body which was discovered about 500m (545 yards) away on Thursday.
Firefighters found the third body burning in a bonfire on Holme Lane.
Two men aged 32 and 39 have been arrested in relation to the discovery of the third body, on suspicion of murder.