Bradford burning body victim was a man, say police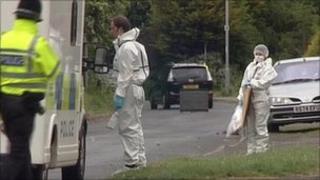 A badly burnt body found on a bonfire in Bradford was that of a man, police have said.
The remains were found by firefighters near Holme Lane in Tong on Thursday.
West Yorkshire Police spokeswoman say two men, aged 32 and 39, who were arrested on suspicion of murder on Friday, remain in custody.
Officers said they were not connecting it to the discovery of two men's bodies found lying by the side of the road in the same area two days earlier.
A post-mortem examination was carried out on the burning victim's body on Friday but police said they would not release the results at this stage.
Det Supt Paul Taylor, of West Yorkshire Police, said officers had attended an address on Eggleston Drive in the Holmewood area of Bradford on Thursday night.
He said that was "now the subject of forensic examinations".
The man's body was found about 500m (545 yards) across fields from where the bodies of the two men were found in New Lane near its junction with Raikes Lane on Tuesday night.
Police have named the men as Shahbzada Muhammed Imran, 27, from Bradford, and Ahmedin Sayed Khyel, 35, from London.
A post-mortem examination revealed both had suffered severe head injuries.
Two women, aged 63 and 26, are being questioned on suspicion of murder.