Bradford Holme Lane 'burning body': Two men in court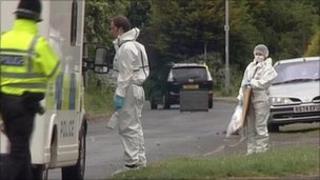 Two Bradford men have appeared in court after the badly burned body of a man was found on a bonfire in the city.
The remains were found by firefighters near Holme Lane in Tong on Thursday.
Jason Lowther, 39, was charged with murder and perverting the course of justice. Levi Ibbotson, 32, was charged with perverting the course of justice.
Lowther, of Peverell Close, and Ibbotson, of Wenborough Lane, were remanded in custody by Bradford magistrates on Monday.
They are due to appear at the city's crown court on Tuesday.
The man's body, which has not yet been identified, was found several hundred yards away from the site where the bodies of two men were found in New Lane near its junction with Raikes Lane two days earlier.
Police say there is no connection between the incidents.