Ray Harryhausen film model collection shown in Bradford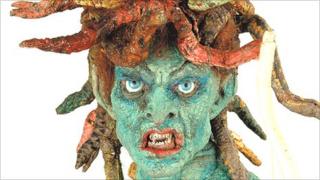 Some of the most famous models from the history of fantasy cinema are to go on display at the National Media Museum in Bradford.
The models are made by Ray Harryhausen, considered by many film fans to be the master of stop-motion animation.
The objects include a skeleton from the 1963 film Jason and the Argonauts, and Medusa from 1981's Clash of the Titans.
The models will be shown alongside examples of artwork for the films and go on display on Thursday.
The exhibition follows the announcement in June 2010 that the Ray and Diana Harryhausen Foundation had agreed to deposit the animator's complete collection with the National Media Museum.
Mr Harryhausen, 90, said he welcomed the exhibition in Bradford and hoped his collection would inspire people to continue the work he had started.
"It is an acknowledgement that my work and art will be preserved for new film makers to study and hopefully continue to appreciate," he said.
'Iconic moments'
Michael Harvey, curator of cinematography at the National Media Museum, said he was "delighted" some of Mr Harryhausen's objects could finally go on display.
"Ray has without doubt been responsible for many iconic moments in cinema history," he said.
"To have agreed with Ray and the foundation to bring this internationally significant body of work to Bradford in its entirety is a huge coup for the museum."
Tony Dalton, the collection's curator and administrator, said: "This is perhaps one of the most important cinematic collections in the world as it covers all aspects of Ray's art and films."
It is estimated that Mr Harryhausen's collection amounts to about 20,000 objects, all of which are now being catalogued at the museum.