Murder accused women in court over Bradford deaths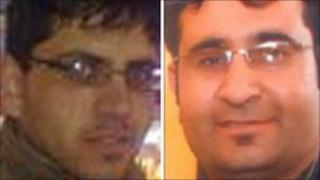 Two women have appeared in court after the bodies of two men were found lying by the side of a Bradford road.
Shahbzada Muhammed Imran, 27, from Bradford, and Ahmedin Sayed Khyel, 35, from London, were found dead on New Lane, Bradford, on 10 May.
Arab Sultana, 63, and her daughter-in-law Kainet Bibi, 27, both of Heath Terrace, Bradford are accused of murder.
They are due to appear at Bradford Crown Court on 12 January 2012.
They have also been charged with destroying or concealing forensic evidence and have been remanded in custody.
Police also want to talk to Mohammed Zubair, 31, the son and husband of the two accused women, who is believed to have left the UK.
Senior investigating officer Det Supt Dick Nuttall said: "Our inquiries suggest Mr Zubair left the country on Wednesday, 11 May."