Hepworth Wakefield is a centrepiece of regeneration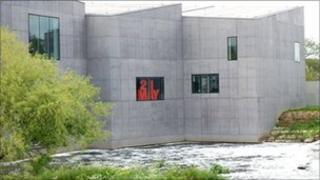 A new £35m art gallery celebrating sculptor Dame Barbara Hepworth opens in Yorkshire on Saturday.
Around 10,000 visitors are expected to visit over the opening weekend of the Hepworth Wakefield.
Budgeting for 150,000 visitors in its first year, the gallery expects to add around £3m to the local economy.
Wakefield Council leader Peter Box said: "The real debate is the effect on the local economy. It will have a lasting effect."
He added: "Wakefield is a better place for the Hepworth."
The decision was taken around 10 years ago to build the gallery as a centrepiece of the city's £100m regeneration.
The new building alongside a weir on the river Calder is claimed to be the largest purpose-built gallery to open in the UK since 1968.
'Dipping a toe'
More than 40 prototypes have been donated by Dame Barbara's family to the complex which also features work by Henry Moore.
Wakefield is perhaps best known as a mining district but also has the cultural heritage of two of the most highly regarded sculptors of the 20th century.
Barbara Hepworth was born in Wakefield in 1903, a contemporary of Henry Moore from nearby Castleford.
The building, consisting of 10 grey, connected, trapezoidal blocks designed by architect David Chipperfield, has raised comments locally.
Simon Wallis, the museum's director, paid tribute to the "genius" of Mr Chipperfield and described the building as "dipping a toe in the river".
Wakefield is also home to the Yorkshire Sculpture Park and Leeds has the Henry Moore Institute, leading to claims by some that West Yorkshire is the sculpture capital of the UK.