Enthronement ceremony welcomes new bishop of Bradford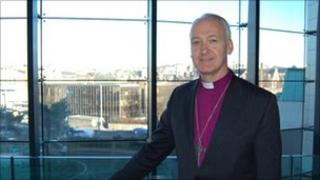 The new bishop of Bradford has been officially welcomed to his diocese in a special ceremony at the city's cathedral.
The Rt Rev Nick Baines, 53, has been enthroned as the 10th bishop of Bradford.
The service followed a reception for civic leaders from the diocese and a procession through Bradford.
Bishop Baines said: "We are here to celebrate new life, a new phase in my ministry and for the Bradford diocese."
The service was attended by 650 people, including 50 bishops, the High Sheriffs of West and North Yorkshire and leaders of other faiths.
Guests have been invited to take part in the ceremony from as far afield as Sudan, the US, France, Germany and Kuwait.
'Building confidence'
Bishop Baines said the enthronement was very important to him and was "not about glamour".
He said: "I will be publicly put into the seat not just for the church but for the whole community.
"That seat is one of pastoral care, responsibility for people and for the community, and not just for the church."
The enthronement sees Bishop Baines return to the city in which he graduated as a language student in 1980.
Bishop Baines said he was delighted to be back in Bradford and his priorities for the diocese were clear.
"They are to build the confidence of the Christian church, to articulate the Christian message in the public sphere and to encourage and lead Christian churches in building the confidence of the place," he said.
Bishop Baines is often heard on the Chris Evans show on BBC Radio 2 and he is also a regular blogger.