George Davis appeal win sparks Headingley Ashes memories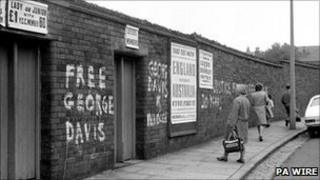 News that a man has won his appeal against conviction for armed robbery in the 1970s will rekindle memories for cricket followers in West Yorkshire.
George Davis was jailed for armed robbery and wounding after a raid in April 1974 in Essex.
Campaigners for his release vandalised the Headingley ground in August 1975 causing an Ashes Test to be abandoned.
After climbing into the ground, the supporters dug holes in the pitch and poured oil over one end of the wicket.
The 'George Davis is innocent' slogan was also painted on the wall around the ground.
Oil damage
The groundsman at the time George Cawthray said: "When I first saw the damage it did not sink in. I was amazed. I thought I should be able to repair the holes but it was the oil that did the damage."
The campaigners' actions led to the final day of the third Test match between England and Australia being abandoned and the game declared a draw.
The fourth Test at the Oval in London was drawn and Australia won the Ashes 1-0.
Four police officers from Leeds travelled to London to help the Metropolitan Police investigate the vandalism.
Four people were tried for digging up the pitch at Headingley.
Three received suspended sentences but one was jailed for 18 months.
Now, more than 35 years on, three appeal court judges allowed the conviction challenge brought by Davis, who is now 69 and lives in London.