Climbing the Barwick maypole - a Whitsun tradition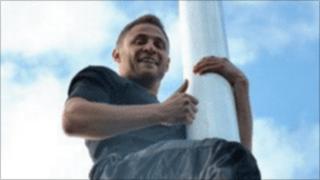 On Whitsun Bank Holiday Monday, all eyes will be on Chris Brown as he attempts to scale an 86 ft-high maypole.
The pole climb, a local custom that dates to the 19th Century, represents the climax of Barwick-in-Elmet's maypole-raising festival.
In English tradition, Whitsun (also known as Pentecost) has long been a day of feasting and merrymaking.
The first mention of the word in English is found in the Anglo-Saxon Chronicle for 1067, as "hwitan sunnan daeg".
Nigel Trotter, chairman of the Barwick Maypole Trust, explained why a climber was needed.
He said: "The traditional raising technique made it necessary for a climber (usually a local farm lad) to ascend the pole to detach the hoisting ropes. After this, he would attempt to make his way to the very top of the pole to give the fox weather vane a customary spin… a superstition thought to bring good luck to the village."
Mr Trotter added: "Although the raising techniques have changed in recent times, the pole climb is a part of the tradition that we are still able to maintain.
"Shinning up an 86 foot pole that is only a few inches in diameter at the top takes a great deal of fitness, and more than a little bravery, so we really have to take our hats off to Chris and all previous climbers. We know Chris has been practising very hard, so we wish him the best of luck."
In training
Chris, 30, is well aware of just what is involved, having climbed the Barwick maypole once before in 2005.
He said: "Put simply, it's hard work. I'm taking it really seriously. I'm training five or six days a week, and have lost a stone in weight since I started. I have put my all into this training and getting as fit as I can. I have even given up the drink now!
"It gets harder the higher you go as the pole gets both narrower and more wobbly! I'm not anticipating any problems, but the pole is painted with a glossy paint, which if it rains becomes very slippery and will make things difficult Hopefully it won't rain on the day, and with a bit of luck that fox will spin!"
Every three years, the village's maypole is taken down, refurbished and re-erected on Spring Bank Holiday Monday. The occasion is celebrated with a Maypole Queen's procession, maypole dancing, beer festival and a street market.
The Barwick Maypole Festival takes place at Barwick-in-Elmet on Monday 30 May 2011 from 10am to 5pm.