Sowerby Bridge allotment arsenic warning to growers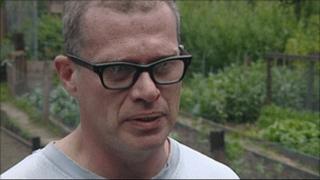 Allotment holders in West Yorkshire have been warned that high doses of arsenic, lead and hydrocarbons were found in produce grown there.
Calderdale Council has said fruit and vegetables should not be eaten following the tests at its Milner Royd site in Sowerby Bridge.
The 28-plot allotment is close to a former landfill site. Further tests are to be carried out to find the source.
Steven Trafford, who tends the allotment, said: "We were devastated."
Mr Trafford added: "Quite a lot of us have been cultivating the plot for a few years and eating all the vegetables thinking they are really healthy.
"We've been feeding them to our children."
Results 'this month'
David Hardy, chair of Calderdale scrutiny panel, said: "We need to discuss how we can prevent this happening again and how we will monitor sites like this across the borough."
Calderdale Council said in a statement: "Following initial tests of five food samples taken in April, Calderdale Council has taken further samples which were sent for analysis last week.
"We expect the results of the latest tests to be available later this month.
"The results of these tests will inform the council of what further action, if any, needs to be taken.
"In the meantime, the council is advising allotment holders not to eat vegetables grown on the site."