Pool, Wharfedale, crashes lead to safety fears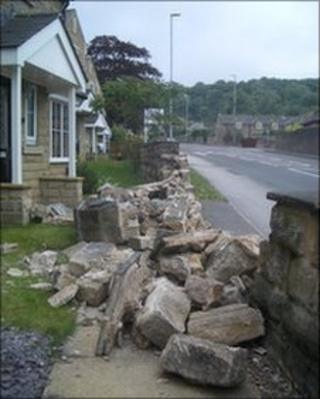 Residents of a village near Otley are calling for traffic calming measures following a series of accidents.
Pool in Wharfedale is crossed by the A658 Bradford to Harrogate road and the A659 from Otley to Tadcaster.
Resident Charlotte McKenzie said: "Until somebody is seriously hurt or killed [the council] is not prepared to do something - that isn't good enough."
One recent crash involved a car demolishing a wall in front of a house on Pool Bank New Road.
Kerry James lives in the house on the A658, a main route to nearby Leeds Bradford International Airport.
"Somebody was driving down Pool Bank, swerved across the road and drove into the wall," she said.
Her son four-year-old Rory was in the study close to the wall.
"He was in tears and quite shocked", said Mrs James.
'Save money'
Local councillor Barry Anderson has called for flashing signs to display the speed of cars entering the village.
He also said that if the council took into consideration near-misses or damage to property, not just injuries and fatalities, Pool would be higher up its priorities for safety measures.
Mr Anderson asked for a review of the number of lorries using roads through the village, two miles outside Otley.
He called for the council to spend some money now on road safety measures in the village to save money in the future.
A residents' meeting about road safety is being held at the Half Moon Inn in the village on Tuesday evening.