Kippax couple scoop £1.5m National Lottery win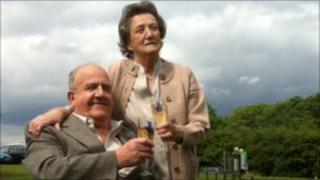 A couple from West Yorkshire are celebrating a win of almost £1.5m on the National Lottery.
Helen and Stanley Walker, both 78 years old and from Kippax near Leeds, have had one other "large" win - of £450 - by playing the same numbers regularly.
This time it was some additional numbers picked out randomly by Mr Walker that scooped the jackpot.
Mrs Walker said: "I turned on the TV to check and when I saw that our numbers matched I couldn't believe it."
She checked the numbers late on Saturday night and then woke her husband with the good news.
The couple are awaiting the arrival of their fifth great-grandchild at the end of the month.
Mr Walker said: "We plan on saving a bit of money for ourselves, to make our retirement more comfortable, and then we'll share the rest with our family."
The couple do not plan to move but will splash out on some new gates for their garden.
The winning ticket was bought from the Co-operative in Kippax.