Leeds City Council turns down mayor's bus travel offer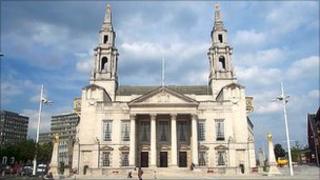 Leeds City Council has turned down an offer by the city's lord mayor to take the bus to some civic engagements.
The offer has been made by newly-installed Lord Mayor the Reverend Alan Taylor at a time when the council is making £90m cuts.
A spokeswoman said the council was "very grateful" for Mr Taylor's offer.
She said: "Given the important role he has to play in the city, it is more appropriate for him to arrive at the majority of events by car."
Mr Taylor's offer comes while Leeds City Council is considering the future of its official cars.
'Costing too much'
The council owns and runs two stretch limousines for use during civic engagements.
Following a decision not to appoint a deputy lord mayor for 2011-12, the council said it was looking at whether both official vehicles were necessary.
A spokeswoman said "no decision" had been made about the future of the cars.
"We are in the process of exploring a number of different options for the future as the two civic vehicles we currently have are old and are costing too much money to maintain," she said.
"This is an area where we can make efficiencies and our commitment to saving taxpayers' money has already been demonstrated by our not appointing a deputy lord mayor this year."