Middleton Railway in Leeds hit by metal thieves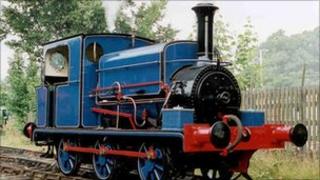 A West Yorkshire railway faces thousands of pounds of repairs after thieves stole metal worth just £30.
The metal, which was used to hold track in place, was taken from the Middleton Railway in Leeds, the world's oldest continuously working railway.
Railway chairman Andrew Gill said reduced takings and repairing the damage could cost about £30,000.
Mr Gill said: "For these mindless idiots to come along and do this is really soul-destroying."
'Absolutely livid'
Seven lengths of track were damaged during the theft and the railway will have to hire specialist equipment to carry out repairs.
Mr Gill said he was "absolutely livid" when he discovered the damage to the railway's main line early on the morning of Saturday 18 June.
"You get this sickening feeling because we have something like 80 volunteers who try to keep this railway running," he said.
"We do it for enjoyment, but we also do it for the people of Leeds."
Heritage railway
The railway has been forced to cancel a number of events, including school visits and birthday parties, due to the theft.
The Middleton Railway has run continuously for 253 years.
The line has been preserved by volunteers since 1960, when it became the world's first heritage railway.
Mr Gill said the railway was still open for business with some trains running.
He said: "I can assure everybody that if they come to the Middleton Railway there will still be things to do."