Owen Wightman hit-and-run: Crimestoppers offer reward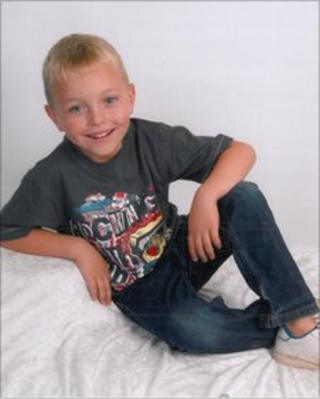 The charity Crimestoppers has offered a reward for information on a fatal hit-and-run incident in West Yorkshire in which a six-year-old boy died.
Owen Wightman, of Kettlethorpe, Wakefield, was hit by a car on Fishponds Lane, in nearby Chapelthorpe, shortly after midday on Saturday.
The driver, thought to be a young white male, failed to stop at the scene.
A reward of up to £5,000 has been offered for information which leads to a conviction.
The Sun newspaper has also put up a reward in the search for the driver.
Crimestopper's deputy chief executive, Dave Cording, said: "We want to help find the person responsible and we hope by funding this reward we will play a part in securing more information to support the police investigation."
'Good response'
West Yorkshire Police are leading the investigation into the incident.
Det Supt Paul Taylor, from the force's homicide and major inquiry team, said: "We've had a good response and we are grateful to the people who have rung in and continue to urge the driver to come forward."
Mr Taylor said CCTV of the car taken from a passing bus was being analysed.
Officers believe forensic analysis of the video images may reveal part or all of the vehicle's number plate.
Speaking on Monday, Mr Taylor said: "I would appeal for the driver to come forward and give his version of events prior to us receiving information about what vehicle it was and prior to us knocking on his door."
'Absolute angel'
He said the driver of the car was believed to have got out and inspected his vehicle for damage immediately after the incident.
The vehicle involved was a small, grey or light-coloured hatchback and officers said it was "likely to have front-end damage as a result of the collision".
In a statement released on Monday, Owen's parents Joanne and Neil said their son was "a bundle of joy - our little ray of sunshine".
Mr Taylor said the boy's parents were "absolutely devastated".
He said: "When you see a picture of Owen you'll realise what a perfect little boy he was.
"Absolute angel. Blue eyes. Blond hair. And you can imagine what a blow this must be to his mum and dad and his family."
The youngster had been out playing with a seven-year-old friend and was on his way home when he was hit by the car.
Masses of floral tributes and teddy bears have been left at the crash scene.
Owen's elder brother Jack left a note which read: "You were the best bro' ever.
"Even when we used to fight and argue I still loved you anyway."
Another note said: "To mummy and daddy's little soldier, forever in our hearts, love u always."