Fish experts check Leeds river at 'dark arches'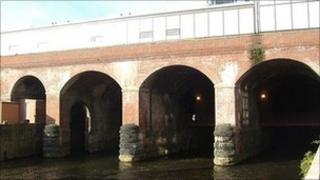 Environment Agency experts are to follow the course of the River Aire as it flows under Leeds railway station to find out how migrating fish navigate the watercourse.
Salmon and sea trout have been spotted in the river but not above the point of the station.
The fish have been seen as close to the city centre as Knostrop.
But they fear the weir under the station, in a part known as the "dark arches" may be impassable for the fish.
Fisheries officer Pete Turner said: "Water quality in the River Aire is now good enough to sustain salmon and sea trout, but we have a legacy of structures which stop them getting upstream to breed.
"Seeing the weir close up and taking photographs will allow us to see whether it's suitable for a fish pass and to work with partners to source funding.
"We've never been under the dark arches before, so we're excited to get a glimpse of the engineering feat that is the underbelly of Leeds Train Station."