Bradford lane deaths police make new arrests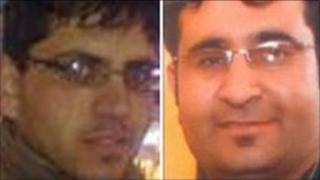 Three men have been arrested in connection with the discovery of two bodies in West Yorkshire.
The bodies of Shahbzada Muhammed Imran, 27, from Bradford, and Ahmedin Sayed Khyel, 35, from London, were found on New Lane, Bradford, on 10 May.
Officers arrested men, aged 24, 29 and 37, on Wednesday morning in the Bradford area on suspicion of murder.
Two women have already appeared before the courts charged with murder and assisting an offender.
Arab Sultana, 63, and her daughter-in-law Kainet Bibi, 27, both of Heath Terrace, Bradford are accused of murder.
Police have also renewed their appeal to trace 31-year-old Mohammed Zubair, the son and husband of the two accused women, who is believed to have left the UK.
Det Supt Dick Nuttall said: "We urgently want to speak to him in connection with our investigation and I would like to re-appeal to anyone who could assist us further in locating him.
"Our enquiries suggest he has left the country and we need to hear from anyone who has information about his current whereabouts."
Anyone with information has been asked to contact West Yorkshire Police.