Sue Ryder family home gets a Civic Trust blue plaque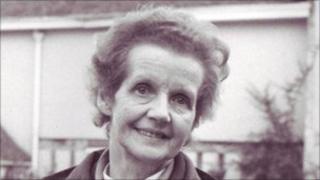 One of Leeds' most tireless charity campaigners, Sue Ryder, is to be honoured with a historic blue plaque.
The Leeds Civic Trust plaque is being placed on her childhood home, Scarcroft Grange on Wetherby Road, Scarcroft.
The plaque will be unveiled at 1400 BST on Saturday by her children, Elizabeth and Jeremy Cheshire from her marriage to Leonard Cheshire.
Sue Ryder was born in Leeds in 1924, and as a committed Christian, believed that she should do her utmost to relieve the suffering of others, especially those living in poverty in the slums of Leeds.
With the outbreak of war in 1939, Ryder joined the First Aid Nursing Yeomanry and was subsequently attached to the newly-formed Special Operations Executive.
She served in the Polish section and grew especially close to those from Poland, a country she came to love.
'Much optimism'
After the war she worked with those she thought had been neglected. In German prisons she found many non-Germans harshly sentenced by the allied occupation military courts for crimes ranging from petty theft to murder.
She took up the cause of these individuals, many of them survivors of concentration camps, and fought to improve their conditions. She visited prisons regularly and also established holiday homes for concentration camp survivors.
In 1953, 'with the help of a small legacy, credit from the bank and much optimism' she established the Sue Ryder Foundation for the sick and disabled of all age groups.
By the 1990s the Sue Ryder Foundation ran 80 homes in a dozen countries, with 28 in Poland and 22 in the former Yugoslavia.
Press interest in the Foundation made her a national figure and she became a household name through a chain of charity shops.
In February 1955 Leonard Cheshire VC, founder of the Cheshire Homes for the physically disabled, invited Sue Ryder to visit his new home at Ampthill.
Neither knew of the other's work, but each recognised a kindred spirit. They became close on a visit to India and married in April 1959.
In 1957 Sue Ryder was appointed OBE and was later made a life peer - Baroness Ryder of Warsaw - her personal tribute to the people of Poland. She died in 2000.
In Leeds her biggest legacy is Wheatfields Hospice in Wood Lane, Headingley, which is run by the Sue Ryder Foundation.
Lynda Kitching, Chair of Leeds Civic Trust, said: "Sue Ryder was a remarkable woman who devoted her life to the relief of suffering.
"Leeds Civic Trust is delighted to be able commemorate her by placing one of our plaques on her childhood home at Scarcroft."