Hire a Leeds Art Gallery artwork for home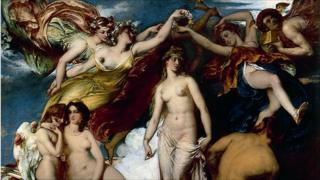 Pictures from Leeds Art Gallery can be hired and displayed at home by taking part in an unusual scheme running in the city.
The gallery's Picture Lending Scheme started in 1961 and has grown to more than 600 available works.
Oils, watercolours, drawings, photographs and a variety of prints are available for loan.
The gallery's Theodore Wilkins said: "The artworks in our care are acquired for the people of Leeds.
"It is our responsibility to make them accessible to all and to preserve them for future generations."
The gallery's full collection is home to items by artists such as Henry Moore, Jacob Kramer and Dame Barbara Hepworth.
In 1997 the collection in the gallery was designated by the government as of national importance.
Art takeaway
People in Yorkshire can borrow a painting by joining the lending scheme, attending a selection day to choose a work and take it back home.
A small hire fee, of a £4 a month, is payable and art lovers can keep the work for a minimum of three months.
Mr Wilkins said: "Like most art galleries we find it impossible to display all our artworks at the same time. We are pretty good at getting work out on display."
He added that almost 75% of oil paintings in the Leeds collection were currently on display across nine museum and gallery sites.
When artworks are not on display they are often stored and 'rested' until they are need for the next exhibition.
Works on paper are usually kept boxed and only displayed for relatively short periods of time to reduce exposure to light.
Conservation treatment and research on the paintings is carried out when they are not on display.
Works from the Leeds collection are also shown around the world.
In the last couple of years works by Frank Brangwyn have been shown in Japan, Frances Bacon in Rome and Henry Moore in Canada.
Most recently works by Stanley Spencer and William Etty have gone off on loan.
Many of the gallery's Atkinson Grimshaw works are currently on display at an exhibition at the Mercer Gallery in Harrogate.
Your Paintings
More than 2,000 paintings from Leeds Museums and Galleries will be available to view on a new website Your Paintings.
The Public Catalogue Foundation, in partnership with the BBC, announced the launch of the project to create a complete catalogue of every oil painting in the national collection.
In all, the national collection amounts to some 200,000 works, held in 3,000 galleries, museums, libraries and public institutions all over the country.
Inspired by Your Paintings, Linda Barker goes in search of the intriguing stories behind Yorkshire and Lincolnshire's hidden paintings in a one-off programme on BBC One.
Linda visits the National Railway Museum in York, host to a collection of over 1,000 original paintings and 11,000 travel posters from the golden age of the train.
Watch the programme on BBC One, at 2225 BST Sunday, 26 June.