Sowerby Bridge allotment test results 'encouraging'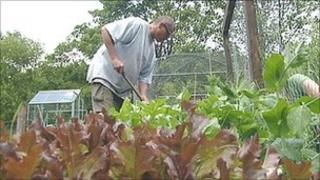 The results of tests carried out on a West Yorkshire allotment where arsenic, lead and hydrocarbons were found in produce have been described as "encouraging".
Calderdale Council said the most recent tests on food from the 28-plot Milner Royd allotment in Sowerby Bridge showed only one sample with high lead levels.
The Health Protection Agency is to carry out more tests at the allotment.
Plot owners have been told to continue to avoid eating food grown on the site.
Calderdale Council first warned allotment holders in early June about the high doses of potentially harmful substances found in some produce from Milner Royd.
Allotment holders were said at the time to be "devastated" at the discovery.
'Way forward'
Calderdale Council said following the most recent results, a site survey of the allotment would be carried out involving the digging of trial pits and the sinking of bore holes.
Further food samples may also be taken from the site to be analysed by the Health Protection Agency.
Councillor Barry Collins said: "While the latest results are more encouraging, further tests are needed.
"The council must act carefully now, but we are determined to find a way forward as soon as possible."
Calderdale Council said a report based on the next set of test results would be published in late July or early August.
Following this report, the Health Protection Agency was expected to issue further advice to allotment holders.
The council said a meeting would then be arranged with everyone involved to discuss the evidence.