Adam Chadwick family's torment over gun killers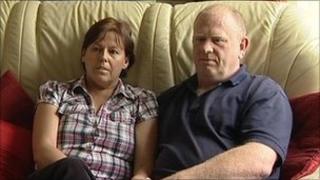 The mother of a man who was gunned down at his sister's house has said she will never rest until her son's killers are brought to justice.
Father-of-one Adam Chadwick, 20, was shot when three masked men and a woman burst into the house in Clifton Mount, Harehills in Leeds, on 24 June 2008.
His parents and police have renewed an appeal for information on the third anniversary of his death.
Jackie Chadwick said: "To me Adam is not at rest until they're caught."
She added: "We want to try to remember Adam and the good times we had with him but you just can't do that sometimes because every time at the back of your head you're thinking 'why did it happen, who are these people'."
'Mistaken identity'
West Yorkshire Police said Mr Chadwick, who left behind a daughter Ruby, had been visiting his sister when a woman and three men wearing masks and camouflage clothing came to the house.
A disturbance followed during which Mr Chadwick was shot.
One of the lines of inquiry is that Mr Chadwick's shooting was a case of mistaken identity.
Police said the woman who called at the house was asking for "Michelle" and detectives believe this may be linked to the murder investigation.
The woman and the masked men have yet to be traced.
Det Supt Dick Nuttall, who is leading the investigation for West Yorkshire Police, said: "From the beginning of this inquiry we have always believed the key to solving Adam's murder lies within the communities of Leeds.
"I still firmly believe that's the case and that there are people within the city holding the vital piece of information that will unlock this case and bring Adam's family some sense of justice and closure."