Give Manningham Pool 'one last chance' says charity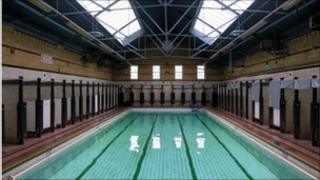 A national conservation charity is asking Bradford Council to give Manningham Pool "one last chance".
The Victorian Society was reacting to the announcement that the pool will close on 8 July.
The council claims the pool is under-used by the public and that closing it will save £119,000.
Dr Ian Dungavell, Director of the Victorian Society said: "Closure is not the answer."
"This is a sad, short-sighted decision which saves the council only a small amount of money," he added.
The council is closing both Manningham and Rhodesway pools but the society claim that Manningham Pool is nationally important.
The authority blamed cuts in government funding for the closures.
It said in March that it would withdraw funding for the two pools, claiming they were the least used in the district.
Councillor Ghazanfer Khaliq said: "This is a disappointing outcome for the people who use the pools but both are under-used and expensive to maintain."
A report commissioned by the Victorian Society says that Manningham Pool should continue to give reasonable service for another decade, with normal expenditure.
Dr Dungavell said: "Until the financial situation improves we would urge the council to do the minimum necessary to keep it open.
"It is not just any old pool."
Manningham pool was opened in 1904 and is one of 14 pools from that era in use and open for swimming.
The Victorian Society is a national charity fighting to preserve important Victorian and Edwardian buildings.