Bid to save Leeds United pitch invasion grandmother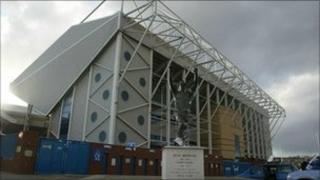 A campaign has started over a decision to ban a great grandmother from Leeds United for a year after she invaded the pitch in a "moment of madness".
Margaret Musgrove, 63, was given an automatic ban for going on the grass during the last game of the season.
Mrs Musgrove said the club was her life and she was devastated by the ban.
Hundreds of people have joined a Facebook group to get the ban lifted. The club said it was policy to suspend people for such actions.
Mrs Musgrove had already renewed her season ticket for next season but has had that seized along with the ban for running on the Elland Road pitch at the end of the 1-0 win against Burnley on 30 April.
'Adrenalin pumping'
She said she was sorry for her actions but "just got carried away with the atmosphere".
She said: "It wasn't planned.
"All I remember is a guy at the side, he was beating on a drum and it just got my heart rate going and the adrenalin was pumping and well that was it, everything took over.
"I just ran on to the pitch and waved my hands and said 'I love you boys'."
Mrs Musgrove said she was devastated she would not be able to attend a match for 12 months.
"Leeds are my life. I would never ever do that again. I wish I could turn the clock back."
The Facebook group "Give Mags Musgrove Her Season Ticket Back Mr Bates" appeals to club owner Ken Bates - who in the 1980s famously wanted to install electric fences to keep fans off the pitch when he was chairman of Chelsea - to be more lenient to Mrs Musgrove.
Marie Blankley, who set up the group, which has more than 800 members, said: "Yes she's done wrong. A 12-month ban is too harsh, a three-month ban, yes she'd take it.
"Mags is not a hooligan. She loves Leeds United with a passion."
In a statement, Leeds United said: "Mrs Musgrove encroached the grassed playing area despite repeated pleas throughout the game for people not to do so, and it is club policy to suspend people who do this.
"In excess of 30,000 fans abided by the message to please keep off the pitch on the day of the Burnley game, but Mrs Musgrove chose not to.
"She is entitled to appeal against her suspension which she has done so."