Featherstone Girnhill estate: three fight CPO order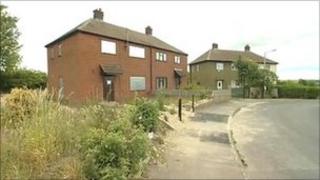 Plans to redevelop a housing estate in Featherstone are being held up by the three remaining households who have vowed to stay put.
Wakefield Council approved a compulsory purchase order (CPO) to force them off the Girnhill estate which was once home to hundreds of mining families.
It said it had offered each of the three a £50,000 relocation package and the full market value for their homes.
The residents say they do not want to go and will press for a public inquiry.
'Campaign of abandonment
Their barrister Naeem Siraj told BBC News: "The secretary of state is obliged to invite objections and the three remaining families will object to the extent that a public inquiry must be called.
"If the intentions of my clients are to be believed they will stay there until the bitter end. It is a matter of principle for them."
They claim the council has deliberately allowed the estate to become derelict around them over the past 10 years.
"They have been, in my view, subject to a campaign of abandonment and degeneration," said Mr Siraj.
"An Englishman's home is his castle. To be forced out of their homes on a pretext is unconscionable.
"They will be there until they are dragged out."
Wakefield Council said: "On top of a £50,000 relocation package, homeowners also get paid the full market value of the property.
"The CPO is not a decision we have taken lightly but this redevelopment is absolutely essential, not just for Girnhill but to protect and improve the future of the whole Featherstone community."