Hebden Bridge row over 'pompous' farewell sign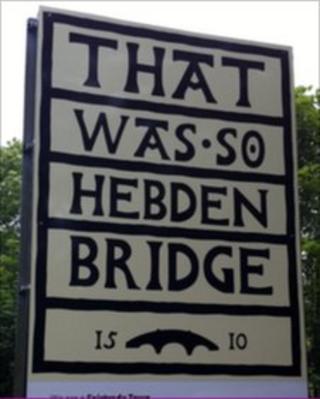 A farewell sign to a West Yorkshire market town has been criticised by some residents who have called it "pompous" and "pretentious".
The sign saying, "That was so Hebden Bridge", was one of two commissioned to mark 500 years of the town's bridge.
Although the sign originally went up last year, a row has now started on the town's web forum.
Sign designer Mike Barrett said the debate was between those born in the town and those who had moved there.
Resident Andrew Hall said on the Hebden Bridge Web Forum that the sign "epitomises everything wrong and embarrassing about the place".
He added: "Just get on with your lives and laugh at the folly of these pompous and pretentious people."
Another resident Gareth Roberts, who said he was born and bred in Hebden Bridge said: "It's a quirky town but I don't know what they are trying to get at."
The typeface on the sign was based on plaques fixed to the bridge, which dates back to 1510.
Mr Barrett said: "The sign is a bit of a dig at ourselves, it is a great place to live."
'Light-hearted sign'
He said he had lived in Hebden Bridge for 20 years but was not born there, which means he is known locally as an "offcumden".
Mr Barrett added: "I did think there might be a bit of discussion but the sign is fairly light-hearted."
"We had some positive coverage in the press at the time. I kind of expected a bit of controversy at the time but it is interesting that it has taken a year for this forum discussion to emerge."
The town lies in a valley about 8 miles (13km) west of Halifax and has about 5,000 residents.
The town's mills developed into an industrial centre for the clothing trade.
However, since the 1970s the town has seen an influx of new residents who brought with them a new arts scene and pressure on housing.
The town has also become home to wealthier commuters from cities like Leeds and Manchester.