Lotherton Hall plans to reveal more of the estate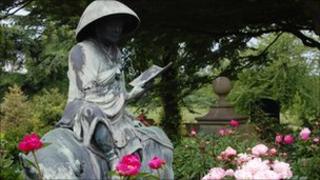 A country house near Leeds is planning to reveal more of its secrets to the public.
Lotherton Hall, in Aberford, an Edwardian country house and estate with a famous bird garden, plans to double the area open to visitors.
Improvements will be made to the Edwardian and walled gardens and the Japanese rockery. The council-run house has an estimated 400,000 annual visits.
Public consultation on the plans runs until the end of July.
The changes will also see the current exit road moved and the entrance road widened for two-way traffic.
The hall plans to open on Mondays and also for for the months of January and February when it is currently closed.
Rebuilt during Victorian and Edwardian times, the hall was owned by the Gascoigne family.
In 1968 Sir Alvary and Lady Gascoigne gave the hall and estate to the city of Leeds.
It contains various collections including pottery, paintings, silver and furniture.
It also has a collection of 200 species of rare and endangered birds.
There is also a small chapel surviving from the 12th century.