Workers protest in West Yorkshire over pension strike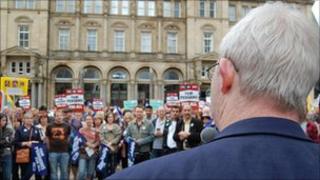 About 2,000 people joined a rally in Leeds city centre as teachers and public sector workers went on strike over pensions.
More than half of West Yorkshire's schools were either fully closed or partially shut as a result of the 24-hour walkout.
As well as the teaching unions, members of the Public and Commercial Services Union (PCS) also went on strike.
In total, about 20,000 public sector workers in West Yorkshire are involved.
At least 470 of the county's 894 schools were affected by the action, council figures showed. Of those 195 were fully closed.
In Leeds, the National Union of Teachers (NUT) said about 80% of the city's secondary schools and 70% of primary schools were either closed or partially closed.
'Show of solidarity'
At Chapel Allerton primary school in the north of the city, 21 out of 23 teachers went on strike, according to the NUT.
Many commuters driving past the school honked their car horns as they passed the picket line on Thursday morning.
Teacher Clare Johnson said that between her and her husband, who is also a teacher, the changes to pensions could cost them £200 a month in increased pension contributions.
Meanwhile, union rallies were held from mid-morning and lunchtime at City Square in Leeds, Arden Road Social Club in Halifax, St Patrick's Irish Centre in Huddersfield and Centenary Square in Bradford.
Some 1,000 people joined the march to City Square and about another 1,000 people turned out for the rally.
Guest speaker Patrick Murphy, from the NUT, was greeted with cheers from the crowd when he said the government was losing its argument over pensions.
Jane Aitchison, from the PCS union said: "This government is weak, together we are strong."
The UK Border Agency, which employs customs staff at Leeds Bradford Airport, some of whom were expected to take strike action, said it expected minimal disruption.
The Driving Standards Agency (DSA), which runs driving test centres in West Yorkshire, said it had contacted candidates to advise them of possible disruption.