Temple Newsam opens playground for disabled children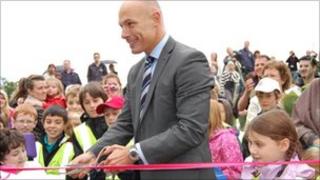 A play area specially designed for children with disabilities has been opened in the grounds of a historic house in Leeds.
The playground, at Temple Newsam, is said to be one of the largest of its type in the north of England.
Designed by Leeds City Council and children's charity PhysCap, it includes a sensory maze and adventure area.
The play area was opened by former Lady Mayoress and Coronation Street star Liz Dawn and football referee Howard Webb.
Councillor Judith Blake said: "It looks fantastic and is something the entire city should be proud of."
Balloon release
The playground also features the first "tactile map" at a Leeds play area.
The map can be used by visually impaired children and children with learning difficulties to find and identify what equipment is available before entering the play area.
Leeds-based charity PhysCap secured £225,000 funding for the new play area, with the Friends of Temple Newsam and Leeds City Council's Playbuilder fund also making contributions.
Children from schools in Leeds joined in the opening celebrations at Temple Newsam by releasing 200 balloons.
Mrs Blake said: "It is such an accomplishment that we have been able to bring a playground to Leeds which all children can enjoy regardless of their ability."