CCTV of Leeds railway cable theft released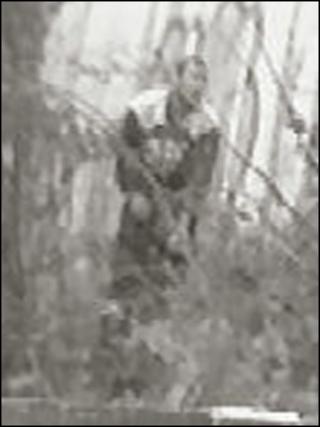 Police have released a picture of a man they want to speak to in connection with the theft of five metres of cable from a Leeds railway bridge.
The picture was taken by a hidden camera, a number of which have been installed at cable theft "hot spots".
British Transport Police are appealing for anyone who recognises the man pictured to get in touch.
Richard Lungmuss, from Network Rail, said: "We are determined to stop the thieves."
British Transport Police and Network Rail have placed covert cameras on railway lines throughout West Yorkshire in an effort to combat cable theft.
Delayed services
Figures released by Network Rail in May showed West and North Yorkshire together experienced around 200 separate cable thefts in 2010-11, an increase of 40% over the previous year's figure.
The cable is vital for the railway network's signalling and the thefts delayed passenger services by more than 1,000 hours in the two counties.
Det Sgt Granville Sellers, from British Transport Police, said the newly-released picture showed life was being made "more and more difficult" for the cable thieves, whose actions affected many.
"The theft of cable has a direct impact on the everyday lives of the travelling public. It really is an attack on the community," he said.