Royal Mail's new Stourton sorting centre extension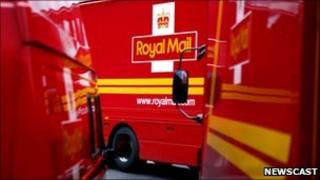 Work is to start on extending a West Yorkshire mail sorting centre that will eventually employ 1,000 people.
The building work on the Stourton site, near Leeds, is expected to last about 12 months.
The £71m extension follows the 2010 decision to transfer mail sorting and around 500 jobs from York and Bradford.
Royal Mail's regional director, Alison Wright, said: "Such modernisation is vital for safeguarding the future of Royal Mail."
The company said service would improve with a regional network of mail centres including one in Leeds and another in Sheffield.
When it is completed the extended centre at Stourton will sort mail for the Leeds, Bradford, Harrogate, Halifax, Huddersfield, Wakefield and York postcodes.
Currently about 500 people are employed at the mail centre in Forster Square, Bradford, and Leeman Road, York.
Both the Bradford and York sorting centres will finally close as the new extension is finished in Leeds during 2012.
Royal Mail said it hoped to be able to find work in the new centre for those that could be flexible and avoid any compulsory redundancies.
The regional restructuring will not affect delivery offices.
The new building will allow for better automation and will also be able to handle the larger "double-decker" HGV.
About 62 million pieces of mail are delivered every day by Royal Mail. Five years ago the figure peaked at 80 million items a day.
The company expects the amount of mail delivered daily to continue to reduce.
According to the annual report published in June the Royal Mail Group's annual profit was £39m, down from £180m in 2009-10.