Vigil for unemployed former Jarvis workers in Leeds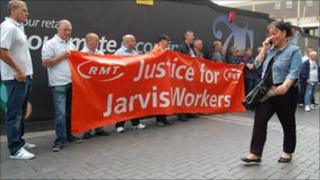 Former employees of rail maintenance firm Jarvis have held a "vigil for justice" in Leeds city centre.
About 1,200 people were made redundant when talks between Network Rail and the administrators finished in April 2010.
More than 350 jobs were lost in York, 300 in Doncaster and 80 in Leeds.
Bill Rawcliffe, of Justice for Jarvis Workers, addressed the gathering and said: "We are talking about real people, not numbers on a sheet of paper."
About 24 former Jarvis workers and supporters gathered outside at the Leeds Employment Tribunal.
The purpose of the case management hearing is to discuss various claims that former Jarvis employees have brought against companies in the group.
'Out of the blue'
Mr Rawcliffe said the campaigners would not give up the fight against losing their jobs, having been made redundant with no notice.
"We went to work on 31 March [2010] and just out of the blue got told you haven't got a job," he said.
Mr Rawcliffe said that the former workers were classed as creditors of the collapsed company and as such had recently received a letter from the administrators.
He claimed that the workers were unlikely to receive wages and holiday pay still owing.
"We want to go back to work and do our jobs," he added.
Previously Network Rail had said that it "took a number of steps to assist Jarvis, which went well beyond the form and level of support a company could normally expect to receive from a customer".