Funeral heartbreak for mother of Owen Wightman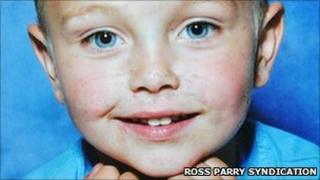 The mother of a six-year-old boy who died when he was hit by a car told mourners at his funeral she never expected to be left so heartbroken.
Owen Wightman, of Kettlethorpe, Wakefield, was hit by a car on Fishponds Lane, in nearby Chapelthorpe, shortly after midday on 18 June.
A 21-year-old man has been arrested on suspicion of causing Owen's death.
Hundreds attended the funeral at St James church at Chapelthorpe.
Owen's body was taken to the church in a SpongeBob SquarePants motif coffin in a white carriage drawn by a two white horses.
His mother Joanne said: "You (Owen) were loved and liked so much and that makes me so proud you belong to me and Daddy.
"Everybody always said you'd break hearts when you were older, we just never thought it would be ours".
A speech from his father Neil was read on his behalf.
"We might have only had you for six years but you've left us with a lifetime of happy memories and love and you'll be in our hearts forever," he said.
His brother Jack spoke at service to tell the congregation: "My brother Owen was the best brother ever.
"Even when we called each other names and we used to fight he knew I loved him and I knew he loved me."
Masses of floral tributes and teddy bears were left at the crash scene which is near the church.