Castleford gas explosion: 27-year-old man arrested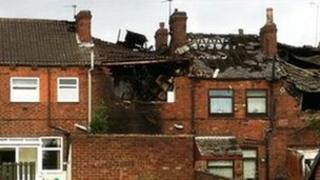 A 27-year-old man has been arrested in connection with a gas explosion which wrecked a row of houses in Castleford.
It was suspected the blast on Rhodes Street, Hightown, early on Friday was linked to a theft of copper cabling.
About 30 people were forced to leave their homes. One property was almost destroyed and five others suffered extensive fire and blast damage.
West Yorkshire Police said the man was being held on suspicion of cable theft and remained in custody.
An investigation into the cause of the explosion is under way.