Wakefield Christmas flood victim still homeless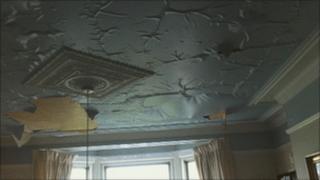 A pensioner from West Yorkshire is yet to return home almost eight months after her house was flooded.
Widow Jill Wedel, 70, from Walton near Wakefield, came home on Boxing Day 2010 to find her house uninhabitable following a flood from frozen pipes.
She said: "I wouldn't want anybody to go through what I have experienced in the last eight months."
Mrs Wedel's insurers, Churchill, said her claim involved "an expensive, time-consuming schedule of work".
The widow said the first attempts to dry out her property did not start until February and that she did not receive her first interim payment for expenses until the middle of March.
The plaster has yet to be stripped back to the brickwork and Mrs Wedel said she had been frustrated by the delays and a lack of information.
'Significant damage'
A frozen boiler in Mrs Wedel's four-storey house had meant that pipes froze in the loft so that when the flooding occurred it affected the house from top to bottom.
"It was as if there had been an explosion, the whole place was dripping," she said.
The living room and bedroom furniture were thrown into a skip along with most of the carpets.
"Decorations were hanging off the ceiling," added Mrs Wedel.
Originally Mrs Wedel had to stay with friends, but she now has accommodation paid for by her insurance company.
A spokesman for the British Insurance Brokers Association said the winter of 2010 to 2011 was "the worst winter we've ever seen for insurance claims, with protracted periods of snow the industry was pushed to the limit".
Churchill said Mrs Wedel's claim "involved a significant amount of damage to her home and its contents, and an expensive, time-consuming schedule of work is required to repair it".
Their statement said: "Her property was only recently fit to be quoted for rebuilding work, as several months of drying time are sometimes required for water damage of this scale.
"We understand that this claim has been very stressful for Mrs Wedel."