Olympic Ethiopian surprise cooked up by primary school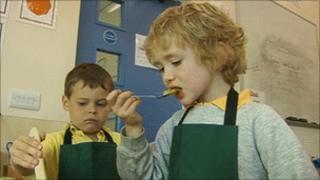 Olympians eating at the athletes' village in London 2012 will be offered a dish cooked up by a West Yorkshire primary school.
Children at Helme Primary School, near Holmfirth, designed the Ethiopian-style "Chickpea Surprise" in a national field of 6,500 entries.
The dish won the primary school section at a recent cook-off at London's Westminster Kingsway College.
The meal is designed to be part of an Olympic marathon runner's diet.
Head teacher Julie Dempster said that designing the recipe, finding ingredients and then cooking the meal had been a "major project".
"It's just one of many things going on at the school, we believe it is important that children have a broad, interesting education," she added.
Drawing inspiration from the five Olympic rings, the Meltham school, with 140 pupils, asked each of its five classes to research one of the continents of the world.
Authentic ingredients
Children then discovered what that continent's most popular sports are, the names of its successful athletes and the nutritional needs of different sports.
Class Two provided the school's winning entry based on food from Ethiopia, famous for its distance athletes, with ingredients including chickpeas, cauliflower, chilli, ginger, coriander and coconut.
Trouble was taken to even find authentic Ethiopian ingredients including teff flour, that had to be bought over the internet.
This flour was then used to make injera, a flat, fermented pancake that is a staple of the local diet.
The flour needs to be fermented with water for several days and the school ended up contacting chefs at an Ethiopian restaurant in London for advice on exactly how to use the ingredient.
Helme school was the first in the region awarded Get Set status, by the official London 2012 education programme, and is trying to make the Olympian and Paralympian values an integral part of the school.
Mrs Dempster said: "The children are hugely aware of the Olympics from a philosophical angle."
The school has had an Olympic-style opening ceremony at its past two annual sports days and will be designing its own Olympic torch to pass around partner schools.
The cooking competition was run by Get Set to find dishes suitable for Olympic and Paralympic athletes.