Power restored to Liversedge homes after metal theft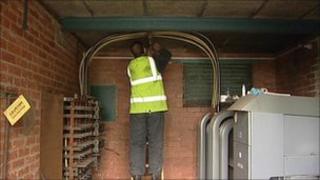 Power has been restored to more than 140 homes after a suspected metal theft cut off supplies for 12 hours.
Emergency services were called to reports of a fire at a nursing home on Church Road, Liversedge, West Yorkshire just before 08:00 BST on Saturday.
Theft of copper cable from a nearby substation is believed to have caused an electrical fault at the home, which affected supplies at other properties.
Police said two men aged 34 and 46 were being held on suspicion of metal theft.
Electricity company CE Electric said due to the theft of electrical components, damage was caused to "customers' household appliances after experiencing over-voltage at their premises".
The company said power was restored to the properties just before 20:00 BST.
A spokeseperson said "high volumes of metal theft incidents" continued to affect CE Electric UK's network, with 785 incidents for the year to date.