Vandalised Hunslet Cemetery to be improved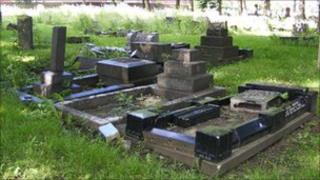 Improvements to one of the oldest municipal cemeteries in England have been announced by Leeds City Council.
Hunslet Cemetery was the first municipal cemetery in Leeds, opened in July 1845, but has been targeted by vandals.
The announcement follows the launch of an online petition asking the council to protect the graffiti-hit cemetery.
Councillor Adam Ogilvie said: "We are working with local community police to reduce and tackle the problem."
The online petition was recently posted by The Friends and Relatives of Hunslet Cemetery, a group formed by Dawn Horkan, who has a relative buried at the cemetery, in February 2010.
'Decades of neglect'
It calls on the council "to actively pursue a course of action which will promote general maintenance and upkeep to the Hunslet Cemetery" and to build "high boundary walls that will help the cemetery look and feel more secure".
A Facebook page calling for the same action has over 1,200 members.
A statement from the council pledged to "undertake a condition survey and to identify a programme of work for improvements to be carried out".
It went on to say that the council had already installed metal boundary fencing, repaired some vandalised areas and arranged with the Commonwealth War Graves Commission to wash the war memorial.
Volunteers from The Friends and Relatives of Hunslet Cemetery try to keep the graveyard, off Middleton Road, tidy.
Tracy Sheader, the group's chairman who has a great-grandfather commemorated on the cemetery's war memorial, said: "The neglect and deterioration hasn't just happened overnight there has been decades of neglect.
"We should have a real community pride in the cemetery.
"I welcome the council announcement as an acknowledgement that there are things to do."