Mike Tindall's ex-rugby coach speaks of royal nuptials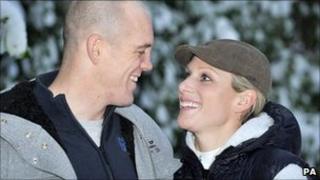 Mike Tindall's former school rugby coach has spoken in anticipation of the England captain's forthcoming wedding to Zara Phillips.
The 32-year-old is due to marry the Queen's granddaughter, in Edinburgh, on Saturday.
Tindall, who plays his club rugby for Gloucester went to Queen Elizabeth Grammar School in Wakefield.
"You never associate him with anything hoity toity," his former school coach, John Chole, said.
"That wasn't him, he's so down to earth, a real Yorkshire lad."
'Emulate Tindall'
The England star was born in Otley, West Yorkshire, and pupils currently playing for his old school rugby team also spoke about the upcoming celebrations.
"I think it's nice that someone from our school is marrying into the Royal family," said one.
His teammate added: "I'd like to emulate Mike Tindall on and off the field - the position he plays, and the women he marries."
The wedding reception will be held at Holyroodhouse - the official Royal residence in Scotland.
The Queen and Duke of Edinburgh will join Zara's parents, Princess Anne and Captain Mark Phillips, at the Canongate Kirk on the city's Royal Mile.
Miss Phillips, 30, has confirmed her dress is being designed by Stewart Parvin, who has also made clothes for the Queen.