Leeds rail station delays due to power supply problems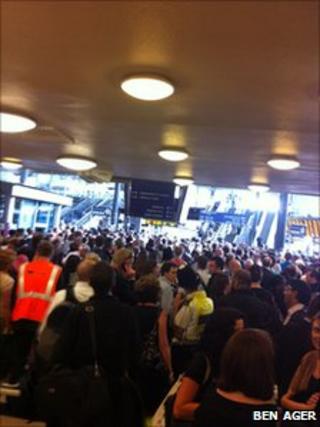 Major delays were caused at Leeds railway station after problems with the power supply.
Trains in and out of the station were cancelled, but full power was restored shortly before 17:30 BST.
But the problem meant delays continued for the rest of Thursday evening, and an apology was issued by Network Rail to the affected passengers.
Power company CE Electric reported a power cut at about 16:00 which may have caused a subsequent power failure.
The exact cause of the power failure has not yet been determined.
Passenger Heather Millar, who was affected by the delays, said: "Police were stopping people going into the station to prevent crushing and I ended up being delayed by over an hour after taking a different route and several changes.
"Many people I saw were stranded and there were constant announcements advising passengers to use other forms of transport where possible.
"It was quite chaotic."
She added: "I lost my colleague in the crowds. He was trying to get to York but they wouldn't let passengers travelling north through at that time."
Passenger Faisal Mahmood, from Keighley, said: "I tried to get to the bus station but I just thought it's pointless as everyone's trying to get home."
BBC Radio Leeds reporter Kate Bradbrook said all she could see was "a sea of heads" while passengers were left stranded at the station.
She added that the disruption also affected Leeds City Centre.