Chapeltown shooting response was appropriate say police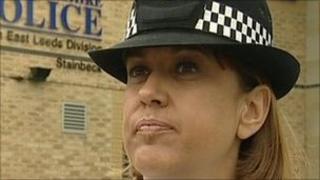 Police and ambulance crews "responded appropriately" to reports of a man who had been shot in the face in Leeds, senior officers say.
The 34-year-old man who was shot in the Chapeltown area is under armed police guard in hospital with "serious facial injuries".
A magistrate who works in the area and a community worker said police had been "heavy handed" after the incident.
Police said they reacted correctly to news of the shooting and later trouble.
Ambulance crews called to deal with the shooting were directed to wait for police support on Monday evening.
Ch Insp Melanie Jones, of West Yorkshire Police, said emergency crews had to ensure their safety before acting.
She made her comments as people in the Chapeltown area walked on a peace rally a day after the gun attack.
'Wait for assistance'
Ch Insp Jones said: "We were responding to a call of a male who had been shot and critically injured and potentially we had offenders still at large in the area.
"It was important that we had an appropriate, effective and fast response to that - both to support ambulance crews in giving first aid and also to commence an investigation into events that unfolded."
The Yorkshire Ambulance Service said its staff had been directed to wait for police assistance before dealing with the injured man.
In a statement, the ambulance service said: "For their own protection staff are never knowingly sent into dangerous or violent situations and operate with close support from the police."
Ch Insp Jones said the disorder that followed several hours after the shooting had been carried out by a group of "about 30 young people".
She added: "It (the disorder) was specific to that area and should not be linked to events unfolding nationally."
Heather Nelson, who works on a health initiative in Chapeltown and has been a magistrate for 11 years said police "had been heavy handed".
She said: "They were extremely heavy-handed, it's how you move in - the young people were annoyed that they were indiscriminately set upon by the dogs and that police were heavy handed."
Asst Ch Con John Parkinson, of West Yorkshire Police, said they had worked closely with local people and the operation (dealing with disorder) following the shooting incident had been successful.