London 2012: Leeds Canvas makes the city a 'backdrop'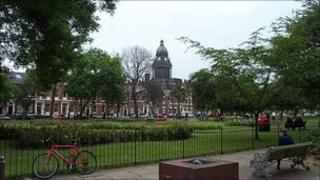 Eight Leeds-based arts organisations will collaborate on a single project for the first time for London 2012.
The Leeds Canvas project is the Yorkshire winner of a £500,000 Cultural Olympiad commission.
Artists will be invited to create artwork in May 2012 using the city of Leeds as a "backdrop".
Ruth Kennedy-Burke, of Northern Ballet, said it was not for a "cultural elite" adding, "we want everybody to be able to see it".
Ms Kennedy-Burke, head of communications at Northern Ballet, which is one of the eight organisations, said: "What we offer as a partnership will attract artists to use our expertise to create what they envisage."
The other organisations involved are Opera North, West Yorkshire Playhouse, Phoenix Dance Theatre, Yorkshire Dance, Leeds Met Gallery and Studio Theatre, Leeds City Council, and Leeds Art Gallery.
Leeds Canvas is one of 12 Olympic commissions across the UK.
The project aims to make a lasting legacy after 2012 by creating new artwork in the Yorkshire region every four years.
Leeds Canvas has said that 5,000 local people will be involved in the project.
The first Leeds Canvas commissioned work will involve artistic duo the Quay Brothers and take place in May 2012.
The Quay twins have proposed a large-scale work exploring "the flow of people and water through the city".
.