West Yorkshire Chief Constable's neighbourhood pledge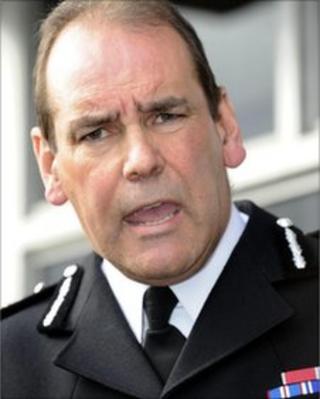 The Chief Constable of West Yorkshire Police has pledged that the force's 48 neighbourhood policing teams will continue despite any budget cuts.
Sir Norman Bettison said he was "determined to sustain" police officers on the ground.
Even with planned budget cuts of 20% he said the commitment to neighbourhood policing would be kept "at all costs".
The force has an annual budget of £450m, but must currently cut £90m from that over four years.
Each team consists of an inspector, several sergeants, PCs and Police Community Support Officers that get to know a particular area and the local people.
'Open the box'
Mr Bettison also said: "The best service we can deliver to the public of West Yorkshire is through having and sustaining the number of staff we have today."
He added that he had to be able to "open the box" to deploy police officers quickly and flexibly at the time of "critical incident" and that he would continue to do that in the future without cutting neighbourhood policing.
Mr Bettison said any confirmed budget cuts will be met by stopping some operations completely such as disbanding the team that records crime reports and adding this responsibility to individual officer's duties.
Money may also be saved by reducing the number of officers deployed to crime scenes.
Janet Harrison, Morley town councillor, for Churwell said: "We are very happy with the neighbourhood policing team and are re-assured it will stay with us."
Mr Bettison added the teams helped to put police officers on the beat that were "accessible, visible and familiar".