Wakefield roads get foreign names after protest fails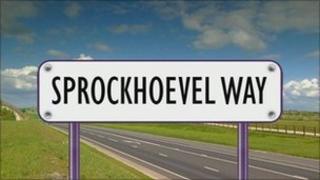 Two roads in Wakefield can be named after twin towns in Germany and France after magistrates dismissed objections to the roads getting foreign titles.
A group of residents living near two new roads in South Kirkby, Wakefield, had protested against them being named Sprockhoevel Way and Avenue Lodeve.
Objectors said road names relevant to the local area would be more suitable.
One of the protesters Don Crossley, 86, said: "It's disgusting. I didn't fly on Lancasters for this to happen."
'Not welcoming'
South Kirkby was twinned with Sprockhoevel in the Ruhr Valley, Germany, in 1981, and twinned with Lodeve in the south of France in 1985.
Both towns were chosen to match with South Kirkby because of their strong ties with the mining industry.
Objectors to the proposed road names were forced to take their case to magistrates after it emerged that, under the little-known 1925 Public Health Act, a council's plans for new street names have to be sent to magistrates to be ratified.
Once that stage is reached, any objections have to be considered by the magistrates and not the local council.
Laurie Harrison, leader of South Kirkby and Moorthorpe Town Council, said he was "very happy" at the decision by Pontefract magistrates.
"I was always afraid that this might portray South Kirkby as a place that is not welcoming and opposed to all things foreign," he said.
"That isn't the case at all."
'Shutting the doors'
As one of the main objectors, Mr Crossley said he and his fellow protesters thought the court's decision was "predictable but not justifiable".
"Why have we gone to this expense? We could have just left it called the Hemsworth bypass," he said.
Councillor Harrison said he hoped the magistrates' ruling would be the end of the matter.
"I want to encourage as many people [as possible] to support South Kirkby, economically and educationally," he said.
"This is one way we do it, by reaching out and not by shutting the doors."