Leeds' new fleet of fuel-efficient buses hit the road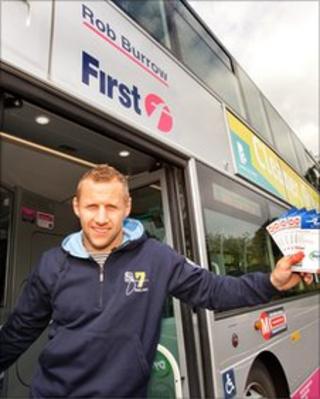 A £6.5m fleet of fuel-efficient, low-carbon hybrid buses is taking to the road in Leeds.
By September there will be 22 hybrid buses on the route along the A61, using the Scott Hall Road guided busway.
The double deck buses use a combination of diesel and batteries and claim to be quieter than conventional buses.
The buses produce lower carbon emissions but conventional buses will also run on the route until the fleet is complete.
The vehicles are being introduced on services 7, 7A and 7S and aim to provide a five-minute frequency in peak periods along some parts of the route.
Jane Tomlinson
The first bus in the fleet was named after Leeds Rhinos player Rob Burrow.
Six of the buses are already named after local heroes, including charity fund raiser Jane Tomlinson and Leeds United legend Billy Bremner.
Suggestions are now being sought for the names of another 16 local heroes to be placed on the side of the remaining buses.
Metro and Leeds City Council have also resurfaced sections of the guided busway and put real-time information displays into more bus shelters.
Funding of £1.7m came from the Department for Transport's Green Bus Fund, and similar buses are being used in cities including Hull, London, Newcastle and Sheffield.